Tour Diary
Monday, 22 May 2006
After some weeks away from our web site, here we write again on our tour diary to talk about the end of this adventure... After the party in Subversiv, we were supposed to go to Zurich and Genčve, to make some more dancin' squatter events, but for several reasons we didn't. In Kalki (Zurich) other people made a benefit party instead of us, that's cool... In fact we were really prisoners of the Berlin groove, and it was quite hard for us to leave that city! We were too much attracted by the springtime feeling that made all the berliners go out dancing in the parks all the day long, after a six months long winter! But even if we were having a great time over there, in such a nice place and with so many nice people, we had to go back to Barcelona, from where we left on february 6th, more than 3 months ago! Romeo, our van, had to bring us back, to complete our journey, even if it was in really bad conditions...
We decided to go first to Torino, where we arrived after a non stop 22 hours trip. Once there, we had to fix some things on the van... people from Barocchio squat helped us. We also got envolved in a new squatted infoshop in the center of the city, just under the Mole Antonelliana: we played some electro music during a typical "aperitivo". At the end we spent one week in Torino, and the time was running without us even realizing it. We have to thank a lot the people of the Asilo squat for the kind hospitality, and because of their contribution to our benefit tour: they made a dinner for Barcelona's prisoners, and gave us money to bring to Soto, Rodrigo, Juancito y Rubén (have a look here for knowing more about the 4th and 9th of february detentions in Barcelona). We are preparing a private e-mail to send to all the places where we went to partymaking, in which we will put the details of our economic contribution to the prisoners... we thiought that it is not necessary to publish how much money we got and to who we sent it. But of course we will pubblish as soon as possible a list of directions and bank account of repression victims that need to be helped...
On may 15th, we left Torino in an adventourous trip to Barcelona: Romeo was in extremely bad conditions, and we seriously had to think about putting it on a ship from Genova to Barcelona; anyway, in the end we believed in Romeo, and we made it back home on its own wheels in a 12 hours suspence journey across France. Romeo died in front of the squat where we live, after gloriously accomplishing its mission. Our tour is over, and we really enjoyed it! We are definitly satisfacted by that adventure: it gave us the possibility to meet many nice people in squats and project houses all over europe... we danced a lot and we made people dance; in some places we also made talks about prisoners situation in Italy and Spain, and we collected some money for them. Actually the tour has been a great experience, and we hope to make a new one sooner or later!
The welcome home was great: our friend were waiting for us, and we found a cool situation in the neighbourhood, far from the stress of february, when the repression was so heavy that we felt more "escaping" than "leaving" from Barcelona... Now, back home, your favourite partymakers are not tired at all: we meet again all togheter (Tanz Girl and Mr. Danni left us during the tour, but now they are in Barcelona as well) and we are already thinking about new projects, new rhythms and new parties... So, dear friends all over europe, take a look at this web-page from time to time, we might be coming to your city sooner than you think!
D.Joy Met and PartyMaker Lammore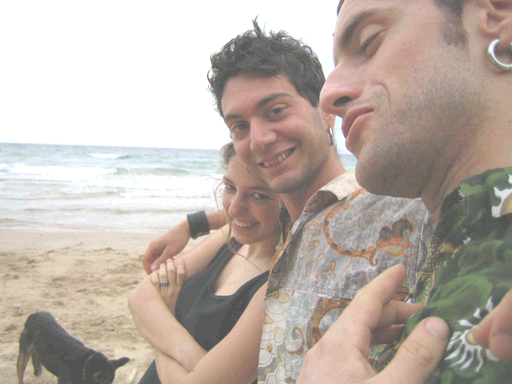 Thursday, 04 May 2006

After some days of silence, here we at last, updating the diary again !! We must admit that we were totally captured by Berlin's metropolitan rhythm, and we kind of lost ourselves into parties, social life, and the beginning of spring. The party we held on saturday at subversiv was really a joy for us. Since not too late in the night the place was already full, everybody was dancing and the party went on like that until approx. 7 in the morning.

It was a nice sensation for us to be in a place, where most of the people in the radical alternative movement listen to some kind of electronic music. We didn't feel anymore like we had to "convince" the people that they could, for one time, dance to electroclash and disco beats... that is pretty normal here in berlin. And so, the two of us swap each other at the console for hours and hours, enjoying our DJ session like kids.

The subversiv is actually a really nice place on two floors, so the ground-level floor was the bar while we converted the basement into a real dancefloor. We decided to play electroclash & electrotechno until 4-5 in the morning, and then switch to some dance and disco hits... and people enjoyed that a lot.

So the party went just smooth... and the afterparty too: when we finished djing in Sub's, we continued in our nightlife experience in another couple of clubs. Both of us didn't go to sleep before sunday late afternoon.

The following days were also full of events: the 1st of may, our "pizza goodbye" to kinderbauenhof... but we will write some diary about that too. Meanwhile, we try to set up the pictures of the berlin party to put them on the website.


Saturday, 15 April 2006

It's being very interesting for us (the 2 survivors of the 270beat collective) to spend a while in berlin ... First of all, Kreuzberg is a quartier full of life, that for some aspects reminds us of the "barrio" where we live in Barcelona: lots of immigrants, punks, ex-punks and antifascists live here. There are many wagenplatz (the kinderbauenhof, where we are staying, is the smaller) and the mythical Köpi, the only illegal squat that survived during the nineties, and that still makes many activities... Yesterday night, for example, we went there to a soli(darity)party: even if lights and sound equipment were really low-fi, the music was very nice and djs were pretty proif... Actually german culture for electronic music impressed us in many other ways: berlin seems to be one of the most important dj's capital! Many wellknown techno labels are from here, there are lots of events in clubs every night and the musical ambience gives us a big inspiration... How can a partymaker not get inspired by a city where on friday night you can see on a sky-scraper a 30meters high green-yellow-red twin coloumn of lights reproducing the led v-meter of a dj mixer?


Anyway, even if our long berlinese nights are dedicated to explore the temples of electro/techno music, at the end we always end up at the Rote Rose (the 24h kitch proletarian pub near here) for some more Jägermeister...

Today, saturday 15 april, we went to a demonstration against the inminent eviction of the Kreutzberg wagenplatz "shwartzer Kanal": there were about 800 peoples and almost the same number of cops, among them the new special "anti conflikt team" wich are supposed to mediate between normal police and demostrators in case of tensions (!?)... The demo was really peaceful, but the cops managed to arrest 2 persons "for having their face masked" - that is a crime, here as in many other nations...

Now we go back to the kitchen to make pizza in the wood oven of Kinderbauenhof, showing our italian pizza-maker skills to old and new friends... güten appetit!



<< Start
< Previous
1
2
3
Next >
End >>
Results 1 - 8 of 20